Episodes
Tuesday Oct 29, 2019
Tuesday Oct 29, 2019
Mae Chandran overcame a difficult childhood in China, and fled from a dysfunctional family life in the US. She went to college in California where she met and married her husband. After having two children, she left a successful career to raise them, vowing to give her family the happy home life that she never had. These days she enjoys watching her children flourish, gardening and cooking, and has won the international silver award in a UK marmalade contest.
Find out more about Mae Chandran
Read more about The Passionistas Project.
FULL TRANSCRIPT:
Passionistas: Hi and welcome to the Passionistas Project Podcast. We're Amy and Nancy Harrington. About a year ago we interviewed Sashee Chandran, the innovator behind the premium beverage line Tea Drops, and during our chat she spoke about her mother Mae, who is her biggest cheerleader and a constant source of support. We were beyond excited when Sashee nominated Mae to be a guest on our podcast.
Mae overcame a difficult childhood in China, and fled from a dysfunctional family life in the US when she went to college in California. After marrying her husband she left a successful career to raise a family, vowing to give them the happy home life that she never had.
So please welcome to the show Mae Chandran.

Mae: Oh, thank you. Thank you very much.

Passionistas: What are you most passionate about?

Mae: I think I'm most passionate about food and cooking. I'm passionate about gardens and my little babies. I call them. So many things I'm passionate about. I have a lot of interests. That's what keeps me going. So cooking and gardening and of course my family.
Passionistas: Take us back to the beginning and tell us where you were born and where you grew up.
Mae: I was born in Canton, China, Southern China in 1948 just after the war and since I was a baby of that era in China. It was a very difficult time and my parents had me late in life because my father came to make his fortune. He went the way of Cuba and then he came to Massachusetts and my mom was still in China. Usually the husband goes abroad, then leaves the family behind. And so my mom was there. This is like after world war two people fled to Hong Kong. So I was three years old when we went to Hong Kong. I mom was there and we live together. She was called to come to America and in 1952 she came, I was four years old. She left me behind with her friend. She took care of me and it was very difficult because you're four years old, but it had to be because when you're a baby, when you're a woman, you're not worth much. My father saw my birth papers because it was worth some money because of that, I didn't have identity and so I couldn't come with my mom, so my mom had to leave me and I knew she was leaving, but I didn't want to give her a lot of trouble.

I was very sad, but I took her to the airport with a lot of other people and then she went in the, I had no idea when she was going to see me next, but the lady she left me with was very nice to me. She was okay. I remember she used to always say I was like three or four stripped down to your waist because I want to show your mom pictures. And I never know why she wanted to do it that way. But I realized later she wanted to show my mom that I was eating okay. And I was okay when my mom left, you know, in those we don't talk on the phone or anything. She just left. I didn't know when I was going to see her. I was so sad that nobody could talk about my mom because I would cry anyway.

I live with this lady. She was a young widow, like all people in Hong Kong, they want to do better. So when an older gentleman came to Hong Kong, he was searching for wife. So she took the opportunity to go with him. So I somehow found out and later on I went to see her mother-in-law and I remember going to this dark room and she was in a bed by herself, and then she shouted at me and said, I use leaving. Me too. Everybody's leaving me. So I started crying. I didn't know what she meant. Anyway, after my friend left, my parents had to scramble and find someone else to take care of me, so they found this family of six kids. I was the oldest. I think at that point I was about maybe seven and I was probably the same age as the other girl, and this family was very different.

I was like the little maid. I had to do a lot of the laundry and whatever, and they didn't really care for me because he has six children and they probably just wanted to take me because they knew my parents would send money. So they took the money. And even though the husband was very nice, I remember when I first met him, he took my necklace away, my little Jane necklace. My mom came me, he says, I don't want you to lose it, so I'm going to keep that safe for you. And then when you go to America, when you join your mother, I will give it back to you. So I said, okay. And then I live with them. And the mother, she was a terrible woman and if you thought she was terrible, her mom who used to visit was horrible. There are some of these people in the Chinese people, they say your face turns ashen when you get mashed.

She was one of those people. She was a terrible person and we just dread her coming. But other than that I was kind of left alone. I said when they needed me to do things for them, I would roam the streets and it's amazing. Nothing happened to me because I would just go everywhere in the neighborhood and Hong Kong, you know, it's a very populated place. So I would just go and in my literal imagination, I was going to school at that time, I would tell people that my parents live in America and they're very wealthy and they're going to come for me and this stuff. And the bus driver was saying, Oh, so tell me what it's like in America and I will make up all these tall tales. I just wanted to be maybe self-important. So I live with them for about three years and I was hungry a lot of times and I slept on a hard plywood near the door and I could feel the rest come running up and down.

As a kid. It's kind of normal and you don't think, Oh wow, yuck. That was how I lived for a few years with them. Causes wasn't a happy childhood. But anyway, I live with these people. Then the mother-in-law lived with us, you know, and Chinese family, they all live together. She was a horrible person. So they will use me a six, seven year old kid and go and spy on the other person and then report back to them. So I was doing this for them. Then I didn't know you're not supposed to do that, but I did. So they were horrible people. The only person nice was the father, but he was never around. He had to work. Then shortly after that, I had a uncle who used to come. He came into the scene and he was taking me to immigrations and I didn't know why I had to go to immigration.

They would ask me questions. Apparently what happened was this, I didn't really know the full story, but my mom who had come to America, she was going crazy because she left me. She was having hallucinations. So somehow they had to yet me to America, but I didn't have my papers. So they decided was to come co a story that I was the orphan child. I hadn't lost my parents and I'm a junkie, you know those ships somehow it sink and I was the only survivor. I don't know how this story came about, but that was the story. So they would interview me and I would go there. They would ask about this. Every time they asked me about my mom, I would start crying. They couldn't go anywhere with me. I remember the ladies said to the other people or don't ask her anymore, and they just gave me some candy to entertain me.

So I didn't really have to answer too many questions. So I was going to America and the husband of this people I was living with, he was true to his word. He gave me back my J a necklace and he said, here it is, but the mug Kinlaw law was so Cru. She said, you know what? I hope your plane crashes when you go to America. When I came to America, I told my mom that, and she confronted her and but she denied it. So anyway, I was so happy. I had met this man who was going to accompany me. He was Mr. Wong. He was a middle aged man. He was dead to get married. So he married this beautiful woman. She was about 18 and they bought me my suitcase and I had two outfits, I think to my name and one pair of shoe P accompany me.

The bright had to stay behind them because of maybe paperwork. And we stopped in Honolulu and I remember it was beautiful there. And he called my mom and I talked to my mom for the first time ever since she left me. And I swear her voice sounded like an Angel's voice to me at that time. I was so happy. I was gonna see her. And then we landed in California and I still remember to this day the smell of the citrus in this motel we were staying. And that's a memory that's sort of ingrained in me. And we finally arrived in Boston, Logan International Airport. And my brother was there. My brother is 17 years older than me, so I remember he, my mom, my father was there and a young girl who was 15 named Betty to this stay with friends. She lives in Honolulu now and they were there to pick me up.

I knew they had a restaurant, we went to the restaurant. But it was nighttime and there was nothing. What I imagined was just like two tables and it was so dark. And I kept asking my mom where all the customers, she says, don't say that. Don't say that, cause that's bad luck. Can you say that in Chinese? You're asking where the customers, you're not supposed to say to them like that. So I just had no clue. And then the next day I remember she said, go and watch the moving pictures. I said, what do you mean? And then she turned on the TV for me and is moving pictures and it was like a miracle. Oh my God, I never seen this. So I was so happy to be in America, to be with my mom. And even though I looked back, that place was so dinky.

I know that it was a very small restaurant. We would make maybe $50 and the waitress was still 10 so it was very beginning. Then my parents bought this other restaurant around the corner on Brightman street. This was on main street. And then we moved there and then life became better materially. However, it was not a happy childhood because you know when you're a girl in that era, you know buddy really and my father treated me like nobody. That was the first time I ever met him. I never saw him. He was like a stranger to me and my parents did not have a good marriage. In fact, they hate each other and that hatred. He sort of hated me because he didn't get along well with my mom. There was always this terrible in harmony between them.
My only salvation was school. I loved school because to be home and that environment was not pleasant. Then my brother got married, he went to Hong Kong and got married to a young woman and you don't know Hong Kong people there. I like rats 25 square miles and you get all these millions of people so you become very aggressive. Your grabber and that was what my sister long was. She came from a large family, I think seven children and she was I think 19 and she was 10 years older than me. From the moment she came, she demanded the business. She wanted the restaurant because the restaurant was doing well now because we had moved and in those days, you know, Fall River was 90% Catholic. So we did really well on Fridays when they didn't eat meat, they had to come to the restaurant or eat the Champaign sandwiches. So she demanded that restaurant. And because my mom and my father never got along, it's like this, like Lincoln said, a house divided cannot stand.

So she demanded the restaurant and she got it. And my mom was very sad because I was the enemy, you know, I was going to get nothing and what can I do? I'm 10 years old, you're at their mercy and I see my father caved in. Well first of all he was a very weak man and my mom did not have a mind of her own either. And the reason why my father relinquishes so easily is because in the Chinese culture, your oldest son is supposed to take care of you. And that's what he thought. They would look after him. The only person who loved me was my mom. Everybody else wish I wasn't even there. And definitely my sister in law looked at me as just a threat to what she can get, and my brother had such a weak spine. He just listened to whatever she says.

Instead of being the protective brother, he should've been. He just treated me terrible. I was always under his thumb, whatever I did anything wrong. He would say, I'm going to tell your teacher I was teacher's pet. I did so well in school, but that was what he said. And I went to my mom and I said, mom, you know, this is my brother. He's always saying this to me. Why don't you say something to them? My mom said, he's only doing what's good for you, but I knew that was a pack of lies. Right then in there, I decided, I'm getting out of here the minute I can't, I'm getting out because my father thought nothing of me, even though I did so well in school. He said to me one time, you know, even if you do very well and you become famous or never think anything of you, you can't imagine a parent saying that to you.

But it happened. So when I became a college age, I got accepted into almost all the schools because I was such a great student. He was very angry. I want to go to UCLA. So that was it. That was good by a good riddens. And the minute I came to California, I felt very sad because my mom pleaded with me not to come. I was her only comfort. Her only friend in a marriage that was horrible in a family that did not love her. But I know to survive I had to do it. And she asked me, aren't you going to be lonely? And I said, yeah, I will be. But I knew this was the only way out. So I came out to California and she told me at that time, and she told me, okay, you go into California, I want you to go to all the Chinese functions and meet a Chinese boy.

Don't shame the family. That was a big thing. My God. If you marry outside of your family, you bring shame. And I knew that was such a stupid concept. Well, I'll tell you, well, my first dances, my second year, I meet my husband at a Chinese dance. I did what she told me to do, but I met the wrong person and then I tried to tell my mom and because I thought, you know, I should tell him that I'm kidding. Married to him. I didn't know how to say Sri Lanka at that time. It was salon. I didn't know the Chinese word for salon, so I sent India, so I say, I'm going to marry somebody from India. He said to me, why do you want to marry somebody from a third world country? So he disowned me completely, which was not nothing new for me, mom of, because a mom is a mom.

She was at the wedding. But I'll tell you, that's why I tell my kids, you guys are so lucky. I had so many obstacles. I had to first come here and then, Oh become my family. Then I had to somehow get married to Bala and both sides were not happy. His mom was very upset and he was the oldest, so he had to go back. Yet the system married yet everybody settle. And so by the time we met and we got married, was seven years had elapsed. I had to finish school. I met him when I was a sophomore. I had to finish school, he had to go back and then he came back. So it was not easy at all. Up to that point, my life was not easy. My only hope was a happy family to grow up in a normal family. I always thought it was weird because we lived upstairs in the restaurant and I said, why can't I be like, uh, I used to read this book.

You are Susan and term with the dog Flip and live in a nice white picket fence house and I'm living in top of the restaurant. And when I got to like 12 and 13 I had to help out with the restaurant and work in the restaurant. I got scars from peeling potatoes and all. I never really had it easy. And when I met people who were happy, it was so foreign to me because here I'm in this dysfunctional family and even what I was, my childhood was so crazy that my only dream was to have a good family and that's why Sashee asked me the other day, she says, "mom, did you have any other dreams other than a happy family and be married?" Yeah, I did. But in my opinion, having a happy family is everything. So I knew that as a child, my only hope was a happy family to grow up in a normal family.

So I knew that as a child, that was really the driving force for me and I think I've achieved it. I worked for Morgan Stanley as a stockbroker and it was fun, but I'm never going to send the one I'd find with any of these jobs. I was entrepreneur, I was at the swap meet and I'm grateful I had it because it gave sheet an opportunity to deal with the public. She was only seven and my son was 12 he was the little manager in one of the computers store and he eventually stopped working for Google because of his knowledge of computers and everything. So I took the job because I probably thought I would work on the weekends and spend the rest of the time with my kids who are young. But it's a very time consuming effort.

But I'm grateful I did it because my kids got the most out of it. I'm so proud of my kids. I don't think I had anything to do with this. Assess both of them. I'm very proud. My son, he's the sweetest boy. I can't imagine having two great kids like this, but it was like a gift from God. If God had given me a book of all the kids that were going to be born and asked me to choose a boy and a girl, I couldn't have done better. Really, I could have. I'm so grateful because for whatever reason, Bala and I think about this all the time, you know, we think of karma of your past life, what you have to do, what of whatever reason. I had to go through so much stuff in order to be where I am. So maybe it's okay because what I am today I became because of all my past, I so appreciate the moments I have. Nobody can appreciate my home more than me, my retirement more than me cause I know what it could be.
Passionistas: We're Amy and Nancy Harrington and you're listening to the Passionistas Project Podcast and our interview with Mae Chandran. To see photos of Mae's beautiful gardens, delicious culinary treats and beloved family, follow her on Instagram at MaeC Chandran. Now here's more of our interview with Mae.
Passionistas: It's one thing to say that you want to have a happy family. It's another thing altogether to actually create a happy family. How did you do it?
Mae: Well, you know, my dream was always a happy family. Really, truly, I knew that I was born to be a mother. I just knew that because I knew I could not make any difference. I am a very smart person. I was a good student and all, but it didn't matter. That's the outside world. I knew that I was born to be a mother and my nurturing on my kids. There was nothing greater than that. I know some people, some women are not. They don't feel like I do and it's okay. But I felt that way.

I felt my family was everything and I was going to create this family. I didn't know how my children would grow up. I had challenges like everybody else. I think I got lucky. Two great kids. And Bala was working so hard, we didn't have time. I was the one at home and when Sashee was born, I quit because I was so toward when Prakash I was at work, I was thinking about him and when I'm home I'm thinking about my work and I would talk to the babysitter, asked the babysitter was INI. Finally my supervisor, whom I didn't respect at all, came in and says, you know what, if you can't run your job and take care of your kid, you shouldn't be here. I know every day what your kid eats. So I said to him, I shot right back. What about you in your tennis partners every day?

I know who you're playing with. What about that? Well, of course, you know, he didn't forget that when time for review, well, I worked for Getty Oil Company. This was the old boys network. Women were frowned upon. Friday by noon everybody was drunk. All the guys, if you had a DUI that was more forgivable then a woman taking care of a baby, missing work. I remember talking to this manager. He was very ambitious. He knew where he want to go and he called me to his office one day. He told me a few things about me taking a break to go and eat cause I was pregnant. I was always hungry and then about my son being sick. I had to take some days off. He said, you know what? You can't do that. I see you have twins, don't you as a parent feel what I am going through.

You said no, he didn't understand at all. You had to be one of the guys. You had to be able to talk sports about flat tie. When it comes to sports, they would talk about football every Monday they would talk about everything else was some work they would go drinking. I was not part of that group, but today it's so different. It's so conducive to mothers. I saw a Google, they have a nursing session for the mothers. It was so different. And my daughter, you know, I'm so happy that she is just a superstar and she's going all the way and just really proud of her. So when she asked me the question, is that all you ever wanted mom? I said, yeah, I want to be a business tycoon. But that didn't happen. But I had you guys and y'all gonna be the business tycoons, so you have fulfilled my wish.

Family creation is God's grace. I think if you spend a lot of time on your kids and give them the right values, they're going to be okay. And that's what I try to do. I mean, I know some great parents whose kids went astray, so I don't know why. So I just feel maybe, you know, you can have luck too. Maybe I was lucky, but I'll take luck. I'll take like any day.
Passionistas: One of your other big contributions to society are those delicious scones and the incredible marmalade that we were lucky enough to taste earlier today.
Mae: Appreciate it.
Passionistas: Oh my God, we appreciate you treating us. So tell us about your passion for food and specifically about the marmalade and how that came about. 
Mae: I really don't even know how I became interested in my family to his bone. And 10 years ago I read about something about it and to me, I like to take on a challenge because marmalade is the granddaddy of all, like jams and preserves are not as complicated.

So I started experimenting. I'm a person, if I pick on a subject, I read everything about it. So I did my research, I did all the YouTube. So I did it. And then I did my own, I knew some of the basic steps and so I did it and it came up pretty good. So I saw this marmalade awards contest in Cumbria UK, England. So I was thinking, Ooh, maybe I should enter that. I swear in my mind, I know people are gonna think I'm crazy, but I swear I was English in a former life of recent incarnation. The reason why I say that is because I love all things English. I visited Wadsworth country, the poet, and I just felt immediately a connection. And I'm reading right now about country and manners, Jane Austen's time, and I'm just fascinated by it. So I'm fascinated by all things English.

So I saw this awards contest, but I felt I wasn't good enough. Then finally after two years gone, I say, you know, it's now or never, I'm going to enter this contest. So I entered and I couldn't believe I won the international silver the first time. I mean, yeah, they have a lot of categories, but they also have over 3000 entries from all over the world. So you're competing against the best of the best. I was very glad. And then the judges will give you a score card and tell you the color, the consistency and the tastes and so many factors they tell you. And that was very helpful to me. So I entered again this year and I again won the international silver. Now I said to myself, I can break this barrier. I got to go for the gold. Now there is a woman who teaches, who's an English woman who has won the double goal, which is the top prize.

However she got it. When there were only 50 entries. So I see. I don't know if she's the right person for me, so I'm trying to find a teacher who is a master that will give me edge to get the gold. So I was on Instagram and I found her. She's Japanese. She's one that double gold, not this year, three, four times consecutively. I said she's the one for me, but she's in Japan, so I'm going to write to her. She teaches, I want to study from her and see imbalances, but you don't understand Japanese. I said, that's okay. You know cooking is a universal language. I'm going to observe her and see what she does. I know she won on the rule book, you know the vegetable and the Seville orange. What are unusual combination. So I want to learn from a master because I want to break that barrier.

I want to aim for the gold now. So anyway, that's how marmalade came about. So now I have made hundreds, hundreds actually of marmalade and I have raised a lot of money and my temple. That's why the marmalade you ate today was actually a samples because all my ones I have made officially have sold out. In fact, one of my friends came and we had a shower for my daughter in law and they were some consolation prizes among them. I had given my marmalade and they were also Tea Drops, so she took a Tea Drop. She says, well, I know may has plenty of marmalade. She wanted a job from me. I said, I'm sorry Judy. I am out a marmalade because I sold out. Come on, why didn't you grab it when you had a chance? So now that's become very popular.

You see the American people don't have a taste for marmalade. They don't even like marmalade family. And I think it's because it's so poorly made. I mean you eat the marmalade compared to the British style so different. So I love marmalade so much that when someone gifted me a group of Seville oranges, this was eight years ago, I planted a few seeds because it's very difficult to buy Seville oranges, which is traditionally English and very expensive. So I planted this seed and I was doing a happy dance in April because I see buds and they've grown little tiny Seville, oranges. I'm going to get a harvests, the orange that I been wanting to do because it has that bitter taste that the traditional English marmalade has to be made from, but there's so many ways of making marmalade, so that's how I got started and to me make it marmalade is very interesting because it's not only a science, but it's an art.

We know when it gels, we know when it's sets. Okay, and it takes an expert to get it to that setting point. I know that technically I'm adequate, but what is it that is beyond that where I can catch in the gold? That is the 64,000 question and that's why I'm going to pursue my study with this lady in Japan. I'm going to Japan. I'm going to study it.

Passionistas: What's your secret for a rewarding life?

Mae: My personal opinion is spirituality without God. I call her Divine Mother because a mother forgives everything. Without he. I would want to live because let's face it, the world is not an easy place. We have challenges and things happen. We don't know why. I mean good people, things happen too. There's no answers. I mean even you alone, you know, we as human beings, we go through up and down.

So you have to have that anchor for you to keep going to, and that's what my thing is. I talked to Divine Mother all the time. Bala always says, well, what do you talk to her about? I said, I talked to her like, she's my friend. She's always with me. You know, if I see a Rose, I said, well, what do you think to my mother? Or whatever. I mean, it's very easy for me to talk to her. I developed this when I was in my spiritual search. I started talking to her. She never answers me, but she does answer me in ways that you see something and you say, Oh my God, you were thinking about me. You might call Divine Mother God, whatever. There is a higher power. So I know that to be true for sure. And without it, I would want to be in the world.

You know, in life you have to have justice, you have to have that and only God gives you justice. I see so many injustices in my life, even in everything. And if you say this, no justice, why do you want to live? But I know in the end there is justice. So that keeps me going. That's the only thing that keeps me going. Because people, even your children, even your husband, they're bound to sometimes disappoint you. Everything disappoints you. But God can never disappoint me. I think that's number one. Number two, you have to live a good life. You know, when I found out when I was a kid, Marilyn Monroe committed suicide and I always say, well, why couldn't she move somewhere and just live a normal life. But I know it's impossible now in order to live a good life, you must do good.

You must be able to sleep well. You cannot be unfair to people. Take advantage of people, cheat people, and then expect God to reveal himself to you. It doesn't work that way. So you have to have a clear conscience. I think the most important thing in life is to be able to live with yourself. I think to get along with yourself to be is the most difficult thing. Forget about your husband and you can always leave him, but how do you leave yourself? I know Marilyn Monroe could never leave herself.
And number three, you must take the precautions in life. Don't smoke, don't drink. I mean, you drink socially fine. I don't drink at all, but that's my personal preference. You must live a clean life. So you must think good. Do good. Live a simple, healthy life. Keep things simple. I have friends who are drama. Queens is unnecessary. Life is simple. We make it complicated. Let's stick to the facts. Just stick to the point. And life is easy.
Passionistas: Thanks for listening to the Passionistas Project Podcast and our interview with Mae Chandran. To see photos of Mae's beautiful gardens, delicious culinary treats and beloved family, follow her on Instagram at maechandran.   
Look for our quarterly subscription box The Passionistas Project Pack. Each box is filled with products made by women-owned businesses and female artisans to inspire you to follow your passions. And we're excited to announce that our featured Passionista for the first box is Sashee Chandran, who inspired us to go into the subscription box business.
Sign up for our mailing list at ThePassionistasProject.com to get 10% off your first purchase.
And be sure to subscribe to the Passionistas Project Podcast so you don't miss any of our upcoming inspiring guests.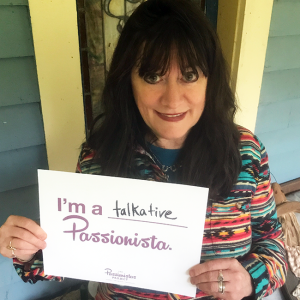 Tuesday Oct 15, 2019
Tuesday Oct 15, 2019
Two-time Grammy nominee and the award-winning author — Holly George-Warren has written 16 books including the New York Times bestseller The Road to Woodstock and the new biography Janis: Her Life and Music about rock icon Janis Joplin. Holly is also working with Petrine Day Mitchum on a new documentary called Rhinestone Cowboy about the story of Nudie, the Rodeo Tailor.
Find out more about Holly George-Warren.
Read more about The Passionistas Project.
FULL TRANSCRIPT:
Passionistas: Hi and welcome to the Passionistas Project Podcast. We're Amy and Nancy Harrington and today we're talking with two-time Grammy nominee and the award winning author Holly George-Warren. To date, Holly has written 16 books, including the New York times bestseller, "The Road to Woodstock" and the forthcoming biography, "Janice: Her Life and Music" about rock icon Janice Joplin. Holly is also working with Patrine Day Mitchell on a new documentary called "Rhinestone Cowboy" about the story of Nudie, the rodeo tailor. So please welcome to the show Holly George-Warren.
Holly: Great to be here. Thanks so much for having me.
Passionistas: What's the one thing you're most passionate about?
Holly: Wow, gosh, what time is it? Every time it changes on the hour it seems like, but of course right now I'm most passionate about, I guess both Janis Joplin and Nudie. As far as my work life goes, my head is wrapped around both of those people. And interestingly enough, Nudie actually did make some outfits for Janice in 1970 so there's a connection with everything. And of course my other passion in my personal life is my family, my husband Robert Brook Warren and my son Jack Warren, who fill my life with joy and excitement and share, uh, my love for the arts, film, music, the outdoors, etc. So I'm very blessed.
Passionistas: So tell us a little bit about what first inspired you to become a writer.
Holly: I think music really did first inspire me beginning at a very, very young age. I grew up in a small town in North Carolina and literally I'm old enough to have discovered music back in the days of am radio. And in my town it was so tiny. We had very, you know, little radio, just some gospel, I think country and Western. This was in the '60s. But I discovered at night after like say nine o'clock on my little clock radio that I could tune into w ABC in New York and WCFL in Chicago. And that just blew my mind. It opened up this whole world for me of all these different sounds and styles of music. Cause that was in the day of very eclectic radio. Playing a DJs, they, they didn't go by strict playlists or anything like that. And I literally started just kind of writing, I think inspired by the music I was hearing.
I started writing a little bit about music and I of course started reading biographies also at the same time. So that was the other major I would say inspiration for me. I started reading in elementary school these biographies of all kinds, everyone, you know, from like George Washington Carver to Florence Nightingale to Abraham Lincoln biographies and became kind of obsessed with reading those books. And you know, I just love to read from a young age. So I think those interests kind of combined that. Um, by the time I got to college I was writing quite a bit and uh, always did quite well with my writing assignments in school and then found myself writing more and more about music, going out and seeing bands performing live. And then that's what I did when I moved to New York city in 1979 I started writing for all kinds of fanzines and underground magazines that existed at that time in the East village.
About then, it was kind of the post punk scene I guess, but I had been inspired by the original punk rockers, you know. I got to see the Ramones and bands like that in North Carolina before I moved to New York. So I've just started writing about the scene, which was not that well covered at the time. Talk a little bit more about the scene at that point. Back in those days, in the late seventies in New York city, there were only a couple of clubs where you could go out and see bands that had, were kind of either following in the footsteps of the original punk scene in New York and London. And a few of those people were still around New York and playing. So there was this great resurgence of kind of DIY homemade magazines, sort of called fanzines that all kinds of people that were into the scene started writing articles for.
And it didn't have as many gatekeepers as say the big glossy magazines of the day, you know, even Cream magazine, which was kind of an upstart as compared to say Rolling Stone was pretty restrictive as far as who could write for those magazines. And I would send out queries and tried to get assignments and never hear back anything. But in the meantime, just people out on the scene who were playing in bands, booking bands, going out to see shows every night we're putting out these music magazines that pretty much anyone through, you know, string a sentence together and had a little bit of knowledge about writing. But a lot of passion basically. Again, passion was very much the key word of I would say the music scene, the people on stage and then also people writing about the music. So that's really what got me started and I started getting published in some, again very small run underground, a little music magazines.
Passionistas: Then you did eventually start to write for Rolling Stone and you became an editor of the Rolling Stone press in '93. So tell us about the road to that and your experience working there.
Holly: It was quite the fun road. It was circuitous because I did get swept up in the whole band scene and actually started playing in bands very early. I played, I used to call it lead rhythm guitar. So again, playing in different bands over pretty much throughout the 1980s and while I was doing that, I didn't write quite as much, but I felt like it was a huge tool for being able to write about music to actually be in a band. You know, we went on the road, we toured around some of my different bands, I did several recordings. So I learned what it was like to work in a recording studio.
And just the whole life of being a musician became a real thing for me. So I felt like I could write about musicians with much more authority. I never considered myself a real musician. I still was a fan, but I, I could play a mean bar chord. And I started out with a fender Mustang and then I moved up to a fender Jazzmaster of the vintage one from the late fifties so I was pretty hip. Let me tell you. In the meantime, I did start getting some real jobs to pay the bills, including, believe it or not, I became an editor at American Baby magazine, which funnily enough, almost everyone that worked there was childless. And that was really my first nationally published articles was for this magazine. Um, how to know when your child is old enough for a pet or, you know, I did a research article where I went out and interviewed parents of quintuplets and quadruplets and triplets, you know, um, but I, you know, really kinda cut my teeth writing for that magazine.
I learned how to be a journalist, you know, a real journalist. And then gradually through meeting people and also being a total rock and roll geeky nerd who was constantly reading every rock biography that would come out. And also I was really into, it was weirdly enough through punk rock, I got totally into old timey country music, like the Carter family. And honkytonk music like Hank Williams and I loved, uh, Patsy Cline, Wanda Jackson, the queen of rockabilly. So I got into that kind of music pretty much while I was a full-fledged punk rocker. And again, I think passion is the line between those two, the thread that connects them that, you know, both of those kinds of music, that earlier country that were raw primitive kind of country music as well as punk rock had that passion was very obvious in the music and that I loved it.
I was totally into all that kind of music. And in fact, I saw George Jones at the Bottom Line in 1980 which blew my mind. So anyway, so I started learning more about that kind of music by just reading books all the time and eventually heard about a job as a fact checker at Rolling Stone press in the 1980s they were doing this big rock and roll encyclopedia and needed someone to double check everything. You know, these established writers who I'd been reading for years, Rolling Stone, like people like Dave Marsh had written. And so that was my first, you know, I was getting to call up Question Mark of Question Mark and the Mysterians and asking him, you know, was it true that he came from another planet and called up, you know, all these people.
In fact, funnily enough, I handsome Dick Manitoba, the singer, the Dictators, I called him up to check some facts about this notorious horrible fight on stage, basically abroad between him and Jayne County at CBGBs. And then literally when I was playing in my band, we were rehearsing and this music building famously where Madonna once lived before she got an apartment near times square I was in, had gotten a taxi to get home with my equipment and there was, who was driving me, but you know, Richard, Manitoba, handsome Dick himself, who I had just caught up and asked him about his career as a fact checker.
So anyway, that kind of got my foot in the door at Rolling Stone, which led to me over the years doing freelance projects for them. And till finally in 1993, well actually '91, they hired me as the editor to do a couple of their Landmark books, had deals with Random House to do new additions, "The Rolling Stone Album Guide" and "The Rolling Stone Illustrated History of Rock and Roll." And so they hired me to kind of be the editor to work with uh, Anthony DeCurtis and Jim Hinky at the magazine to guide these books, which are these massive, massive researched, you know, a lot of people involved, you know, a lot of moving parts to do these new, uh, additions. So that went really well. So in 1993 they decided to start up a new book division, which had kind of fallen by the wayside and they hired me to come on board and run that book division. And that was a great experience and that's what led me to start writing for the magazine. I started doing assignments for the magazine, record reviews and things like that while running the book division.
I learned so much from working on those kinds of big reference books. You know, and again, we had amazing writers that I got to interface with and on "The Illustrated History of Rock and Roll," too, I got to work with everyone from Peter [inaudible] to Mark Marcus to the late great Robert Palmer. Again, Dave Marsh, you know, many, many writers. And then I got to assign a lot of new chapters and in fact I wrote a chapter, Anthony DeCurtis became a real mentor to me. He was an editor at Rolling Stone that was in the trenches with me on these book projects and he assigned me as the writer to do a big piece on the changing role of women and rock, you know, beginning with Patty Smith, et cetera. Up to that current time. I think, you know, I covered, I think Sinead O'Connor at that point was maybe one of the newer artists that was, uh, the focus of my chapter.
But that was a real huge, exciting thing to get to be part of. And then I got to do another very cool book with a wonderful writer editor named Barbara Odair, who came to my office. She was working at Rolling Stone and then at US magazine back in the day when it was owned by Winter media and said, "Let's do a whole book on women in music with every chapter written by women and every, as much as possible, all the photography done by women." So we did this really cool book called "Trouble Girls: The Rolling Stone Book of Women in Rock."
And funnily enough, one of the chapters I did for that one was this big piece on Nico, who was my first ever famous person I ever interviewed when I was, you know, living in New York city. I was still waitressing at the time. And Nico, of course from the velvet underground fame was kind of down at the heels. Editorials at the time, but having to go to a methadone clinic across from where I was working and would come in every day afterwards and have an amaretto on the rocks and cheesecake. So I got up my courage and asked her if I could interview her and I didn't even have a platform for my interview, but she said yes and got to spend some time with her and interview her and use part of the interview and a little fanzine back in the day. But then I got to really expand and write this whole chapter on Nico and use this interview I'd done 10 years earlier or even earlier than me, I guess 12 years earlier for this book "Trouble Girl." So that was really exciting. Yeah.
Passionistas: So you were writing about women, you're interviewing women, but what was it like for you as a woman starting in those early days in the punk rock scene through this time where you've becoming a more established rock journalist? What were your experiences like both as a musician and a journalist, as a woman in the music industry?
Holly: Well, when I met people face to face and worked with them, say for example, Anthony DeCurtis and Jim Hinky, who sadly just passed away just a few weeks ago or a month, a month or so ago. They were very, very encouraging and very supportive. They really encouraged me to write and gave me assignments, et cetera. But before that I really found, and maybe it's true whether you're male or female or whatever gender, you know, but if I just blindly sent out queries or blindly tried to get gigs writing, when I first moved to New York City, it was a disaster. I mean, people either ignored me or just blew me off or said no or you know, it was really hard to get the foot in the door without actually working with people and for them to see what my work was like. Now, I did have the good fortune early on to meet some people that had worked with punk magazine and part of, there was this whole cool kind of resurgence of comics.
This really great artists. Peter Bag had joined forces with John Holmstrom who had done punk magazine. And Peter and I, a Peter's wife and I work together, you know, at this restaurant. So Peter knew that I, you know, at this time I was just going out and writing about stuff on my own and pitching it to a few people I knew actually from North Carolina had moved to New York, but then they started giving me assignments for this. These magazines they started, one was called Stop and when it was called comical funny. So they, you know, they really encouraged me. So, you know, I can't say that I experienced gender bias or anything like that. Once I knew the people, I think maybe I was just, it's hard to know. I mean I did definitely get a lot of rejection. A lot of people that I pitched didn't really take me seriously and whether it's they didn't really know my work or because I was a woman, I don't know.
I mean I, I did frequently find myself being the only music geek, you know, blabbing away on all this arcane kind of Trainspotting rock and roll history trivia with, you know, I'd be the only gal in the room blabbing away about that, you know, with some guys and stuff like that. There weren't a lot of women doing it and there weren't that many women around Lee for me that I crossed paths with to kind of support my endeavors at that part of my career. However, I very fortunately met a couple of women when I was a fact checker at Rolling Stone Press who were very, very encouraging and really I would not be talking to you right now if not for them. And one was Patti Romanowski who was the editor of Rolling Stone Press at the time, who hired me as a fact checker back in the '80s. She went on to write many as told two books with everyone from Mary Wilson to Otis Williams at the temptations. And that book has recently been the basis for this very successful Broadway show right now. So Patty was fantastic.
And then her boss, the woman who ran rolling stone press with Sarah Layson who became, you know, really made my career because after she left Rolling Stone Press, she started a book packaging company and became a literary agent and hired me continuously for her book company. And then she became my literary agent when I left Rolling Stone. No, actually before I even started at Rolling Stone, my first ever book, which I uh, got my first book deal around 1990. So it was even before I went to Rolling Stone actually, she became my literary agent and my first ever book, she connected me with my coauthor Jenny Boyd, who had been married to make Fleetwood and her sister Patty Boyd, you might know the name was married to George Harrison, Eric Clapton.
And Patty was a really interesting person who had kind of dug out a new life for herself. After her marriage with Mick Fleetwood ended, went back to school, became a psychologist, got a PhD and wanted to do a book on creativity and in musicians. So she hired me to be her co-author and we did this book called, well, it's available now. It got repackaged again and republished in England called, "It's Not Only Rock and Roll," but it was basically about the creative process of musicians based on interviews with 75 musicians. So that really started me on my path as an author. That was my first book and that came out and a '91 Simon Schuster, a Fireside Division. So Sarah did that and then she became my, you know, agent. I wrote a few other books, a couple while I was at Rolling Stone and then when I left there in 2001 I've been writing books ever since. And Sarah has been my agent for all of them up to this my Janice Joplin book.
And she definitely is one of my, you know, if not for her, I would, you know, like I said, I would not be talking to you right now.
Passionistas: You're listening to the Passionistas Project Podcast and our interview with award winning author Holly George-Warren. To find out more about her latest book, "Janice: Her Life and Music" visit HollyGeorgeWarren.com. Now here's more of our interview with Holly.
So clearly you have an extreme in depth knowledge of the history of women in the music industry. So how do you think the music industry has evolved over the years in terms of opportunities for women?
Holly: When I first moved to New York as far as women performing in bands, that was just starting to really happen thanks to the whole, you know, punk explosion with bands from England, like the Slits and the Raincoats, the Modettes, you know, I saw all those bands, that little tiny clubs and it just was a much more welcoming atmosphere for women to pick up instruments and play in pants.
And like I said, I started playing guitar in bands. Then of course, you know people like Tina Weymouth and Chrissy Hynde, I mean Patty Smith of course. So as far as getting the courage to get up on stage and play and then just, um, to have other like-minded souls out there that wanted to be in bands with you was very, uh, it was a great time to be in New York and gradually there became more and more venues, places to play. I got to play at all of them from, you know, CBS to Max's Kansas city, peppermint lounge, Danceteria, you know, all these great classic clubs in New York, you know, late seventies, early eighties. And as far as the music business, I mean, you know, at that time we were like screw the music, but you know, we were punk rockers, man. We were underground. We didn't want anything to do with that.
In fact, when I started even working for Rolling Stone in '93, I would tell people like, yeah, I'm working for Rolling Stone so I can afford now to write about the bands I really love. For it cause I was still writing for this really cool magazine called Option, which, and I'll if you remember that magazine, but very cool magazine based on the West Coast. And so I'd still write about people that would never ever get covered in Rolling Stone, but all different types of music. And again started writing about some of the early country music pioneers and rockabilly people like Wanda and people like that. So I didn't really interface that much with the mainstream music business at that time.
You know, I basically had good experiences on that very low level. Again, this was the time of the Go-Go's had come around and the Bangles, my band Dos Furlines, went on a tour of Canada with a couple of other all women bands and it was, you know, it was a male promoter and everything went really great.
Once I started moving up the food chain, once I was at Rolling Stone, I started working on producing some CD packages with labels. And again, everybody I worked with were male, but they were very supportive. They were really into what, you know, my ideas were. So I didn't really have any problem with that. And you know, gradually I started meeting some very cool women that a lot of women I discovered had been really behind the scenes. So I started meeting some of those women who had been working at labels for years. Some of them had left, it started their own publicity companies, some of them were in management, et cetera. So, and then I, you know, finally got to meet a few of the women who had been pioneering women, female journalists. But again, there weren't that many. It was very cool to see. And then, you know, like I said, Barbeau Dara and I did a whole book with lots of great, great women writers.
The scene I think helped, um, a lot of women find their, you know, their niche a lot. You know, a lot of women were total big into music just the way I was. But you know, finally, all these channels that opened up for them to pursue it as either a writer or you know, an A& R person manager, publicist, a photographer, lots of great women photographers. And again, I was, I loved meeting women who started in the business in the '60s into the '70s. So I loved getting to meet them in the '90s and just, I wish I would've known them or could've somehow met them when I first started out in the '70s, late seventies, even early eighties to get encouragement from them. But you know, they, they were really kind of behind the scenes. They weren't that obvious. And some of them became very good friends like Jan new house ski, uh, fabulous, wonderful.
A writer who was one of the early women writers for Cream magazine. And, uh, I got to know her and work with her and you know, Daisy McLean, who had written for Rolling Stone, um, back in the glory days of rock journalism where they were all these junkets and you were flown all over and wined and dined by the labels and all that kind of stuff. And she had some amazing stories to tell about being in the trenches. And Ellen sand or another wonderful writer who her great book called, I think it's called trips, was just reissued last year. And she was a very early writer. And when out on the road with, you know like LEDs up one and covered a Woodstock and a lot of Janis Joplin gigs, Forest Hills tennis stadium wrote about that. And so again, just these great writers who were hard to find when I started out.
Passionistas: You have an interest in all these genres. And you've written about such a wide range of music from country to punk. What makes a topic or an artist compelling enough for you to dedicate a book to the subject?
Holly: I guess if there's a complexity to the person and arguably perhaps all artists are a complex people, who knows cause I don't know about all of them, but I've been really attracted to writing about people that have had to really struggle, who've had to break down barriers to be heard, who have, you know, a lot of facets to their personality. And Janice is my third biography. My first one was Gene Autry, the singing cowboy who was a very complex man and very much a groundbreaking artist going way back to the beginning in the late 1920s broke through in the early thirties. And then Alex Chilton, who of course a lot of people know from big star, but it started out as this pop star at age 16 and the Box Tops and just had this incredible career in life.
I become passionate about them, their music, their lives. I never lose that passion. I mean I still get excited if some crazy, you know, online radio station plays, you know, a Gene Autry song. Same thing without, I was so thrilled. I went to see once upon a time at time in Hollywood and to hear a very deep cut box top song on the soundtrack of a, of the new Quintin Tarantino films. So two to train. By the way, I never lose the passion for the people that I like. Literally moving in with one of my biography subjects, you know, for several years. And you never forget your roommates, right? Most of them.
Passionistas: Tell us about why you chose to write a book about Janis Joplin and what you learned about her that you found most fascinating from writing the book.
Holly: I have to say part of it, I mean, I really believe that my subjects also choose me somehow. Again, following my passion, I ended up in a place where it just kind of comes together and with Janice for years, of course I had loved her music. She was definitely an inspiration for me growing up again in this tiny town in North Carolina, that didn't have a lot going on for me as far as the kind of things I was interested in. And now again, I might be like one of my biography subjects, but I think I saw her on the Dick Cavett show and just her whole look and attitude and sensibility and not to mention her incredible voice. I'm like, what's that? I want to be that. She was probably actually a little did I know at the time wearing this outfit that Nudie made for her. Of course. I was one of those people that was devastated when she died in 1970 and in 1971 I had joined the Columbia Record Blub and got Pearl.
I still have my original copy. So just a fan and then once I was working at Rolling Stone and started doing projects with the Rock and Roll Hall of Fame, the Hall of Fame did a really cool symposium on Janis back in the nineties, I think it was '97. And Bob Santoli, the head of education, VP of education and programming at the time invited me to be part of it and I'm, I got to go to Cleveland and give a talk about Janice's influence on contemporary women musicians, but the best part was I got to meet Janice's brother and sister Michael and Laura. I got to meet Sam Andrew, her a guitar player, Chet Holmes, who was the manager for Big brother and the Holding Company and started the Avalon Ballroom dances there back in the '60s some other people to her, John Cook, her road manager. So I got to meet all these people.
Then lo and behold, they did an American masters, American Music masters panel on Janice or weekend symposium on Janice again in 2009 I believe it was. And once again this time, um, and powers and I were asked to give talks about, Janis kind of a keynote thing with Lucy O'Brien, a grade a woman, rock journalists who's based in London. So the three of us kind of gave a joint keynote and again got to meet all these amazing people. So I just kind of got to learn more and more and more about Janice and about her music. The thing that really got me was I was asked to write liner notes for this two CD set called the Pearl sessions that Sony was doing in the early teens. And for the first time they had gone into the vaults and pulled out all this talk back between Janice and Paul Rothchild, her producer, who was known for being a very authoritarian producer.
Like he worked with Joni Mitchell and one of her first or I think or second album. And she's like, no, I can't work with him. He's too bossy. He tells me what to, you know, so she wouldn't work with him. He famously produced most of the Door's albums and he would make Jim Morrison like redo his vocal like 10 times or whatever. But he listening to them in the studio together, I'm like, Oh my gosh, this woman is calling the shots. Janis Joplin is telling Paul Rothchild like, Oh wait, let's slow it down here. Wait, let's try a different arrangement on this. Let's have this guitar part here. I mean, she was basically producing the record with him. She's never gotten credit really for being this very thoughtful orchestrator of music and hardworking musician. She created a very different image of herself in order to sell herself as a persona, this rock persona.
And she was very successful at that and I think I, and almost everybody else bought it, but I realized from listening to these recordings that there was a whole other side to her, this musician side, that she wasn't just blessed born with this incredible voice that she just came out of the box singing. She worked, she really worked. And that very much intrigued me and that made me more interested in wanting to spend four and a half, five years working on Janice's life story and trying to make a write a book about her that shows her trajectory as a musician because you know, there had been some other books, some very well researched. I'm Alice Echols wrote a great book about Janis with a lot of research, but I felt still that somehow or musicianship and had not ever been acknowledged the extent that it should have been.
So that was kind of my goal for this book to really find out who her musical influences were. What did she do to improve her craft, or how did she discover her voice? What were the obstacles she had to overcome, all those kinds of things. So that really fired me up. And again, my wonderful agent, Sara Liaison, who had actually been the agent for Laura Joplin's book that she wrote called "Love Janice," which told her story of growing up with Janice as her sister and used a lot of letters that Janice had written home. She reproduced a lot of the letters in the book and my agent told Laura about me and I had met her back in the nineties and so I was able to come to an agreement that, again, similar to the Autry book, they would allow me to go into Janice's personal files or scrapbooks or letters, and I could use all that in my book, but without any controls over what I wrote, they would not have any editorial approvals or anything like that. So again, that's, that's how that came about.
Passionistas: And your other current passion, you've touched on it a couple times, but tell us a little bit more about "Rhinestone Cowboy," the story of Nudie.
Holly: I think there's kind of a pattern here. You can see that none of these, I'm no one overnights and station or whatever. All of my projects really, they come from years of passionately pursuing something just really for the love of it, more than with any sort of goal in mind. And that's kind of the same story with Nudie. As I mentioned, I was a collector of Western where I worked on the, "How the West Was Worn" book and that's when I really learned about Nudie, who was this very showman, like couturier the Dior of the sagebrush or whatever they used to call him, who catered to early on cellular Lloyd Cowboys, people like gene Autry.
And Roy Rogers was a huge client and then all the stars like Hank Williams making their incredible embroidered outfits. Then he started putting rhinestones on the outfits. I'm for a country in Western singers. And then in the late sixties people like Graham Parsons, The Flying Burrito Brothers, Janice, the Grateful Dead, the Rolling Stones, Elton John all started going there, getting these really outrageous over the top and bordered and rhinestone suits. So I learned about him gradually and then it turns out through doing "How the West Was Worn," I met Patrine Day Mitchum, who herself had actually hung out at Nudie's back in the '70s, knew him and he had tapped her to write his memoir with him. So she has hours and hours and hours of taped, uh, recordings with him telling his fascinating story about being an immigrant as a young boy from the Ukraine to New York, all these ups and downs. He went through very colorful stories that finally landed him in Los Angeles in the late forties and started his shop and started making outfits for all these Western swing performers.
Tex Williams was his first. So we teamed up and started talking literally back in 2002 about, Oh, we should do a project together about Nudie. Should we do a book, because should we do a film? And so literally, all these years later now, we've actually started working on our documentary. In the meantime, I had worked on several documentaries over the years as a consulting producer and producer on lots of music documentaries that have been on PBS, etc. So I had that experience. And then Trina has worked in the film industry over the years as well. So we were able to kind of combine our passion for Nudie and his incredible clothing and some of the other outfits were made by some other great, also immigrants from Eastern Europe. This guy named Turk who was out on the end. VanNess was the first one. His shop opened in 1923 and then back in Philadelphia on the East coast rodeo.
Ben had a shop beginning in 1930 all three of them in Nudie where they came from. Eastern Europe was young boys, young men, and then also the whole story of the immigrants from Mexico. Manuel who still at age 86 is designing these incredible outfits in Nashville. He worked with Nudie and Heimaey Castenada who is still right there in North Hollywood, making incredible outfits for Chris Isaac and Billy Gibbons and Dwight Yoakam. So it's a bigger story. Even then I realized as far as it's a story of immigrants coming to this country and creating the iconic American look, the rhinestone cowboy outfit. Right. So go figure.
Passionistas: Looking back on your journey so far, is there one decision you've made that you consider the most courageous? That sort of changed your trajectory?
Holly: Oh, I guess it was just picking up and moving to New York city with, I had a little audio cassette player. You remember those? It was even pre Walkman. I had that. If you could set mix tapes or suitcase and that was it. 500 bucks, maybe 700 I don't know. Just kind of moved to New York and I mean, I think, I guess that was the smartest thing I ever did because basically in New York I made lifelong friends. I met my husband, he was playing in a band, the flesh tones. Um, we were on a double bill. My band does for line. So that's how we met in the 80s all these passions, some of which I had as a young girl growing up in North Carolina, I was literally able to materialize into projects, into a lifestyle and into a livelihood. I mean, gosh, I mean, how lucky am I that that happened? Things that could have just been a hobby actually became a way of life and an occasional paycheck here and there.
So I feel very, very lucky. And I think moving to New York city, almost at a whim, I went to school at the University of North Carolina, Chapel Hill. So I had two sides of my personality, the former hippie Janice wannabe, and the punk rocker. So when I was going to leave Chapel Hill, I'm like, well, I'm either gonna move to New York City or Key West. So I think it's a good thing. I moved to New York city.
Passionistas: What's your secret to a rewarding life?
Holly: Again, and I teach, I tell my students this, whatever you do, if you can pursue it with passion. You guys nailed it with the name of your podcast. Because if you can approach even, you know, path things with passion, you know, with anger or … of one with passion, I think, you know, whatever it is, if you can just engage and be passionate about things that's going to enrich your life. I mean it can maybe take its toll on you too. But I think how that kind of feeling and motivation that you're driven by the passion of whatever it is that you're thinking about or wanting to learn about or whatever, you're going to do a much better job with whatever it is you're pursuing.
Passionistas: What's your definition of success?
Holly: I guess success is not only attaining a goal that you had for yourself, but within that goal also having happiness and a good state of mind about it. Because I think horribly, you know, in our culture, a lot of people that find certain success, you know, material success or even career success, there's other aspects of their life that is not working out too well. So that's not really success is that I think you have to put all the parts of the puzzle together so that they're all kind of working out together to really be successful. It's tricky. It's difficult because life has a way of throwing lots of curve balls at ya.
Passionistas: So what advice would you give to a young woman who wants to be a journalist or an author?
Holly: First off, subscribe to your podcast. And seriously, I think surrounding yourself or finding out about or listening to other people who are passionate about things that you're interested in doing or even if it's something different, but people that their passion is driven them to be successful or to work towards attaining success, that that can be very inspirational and motivational for them. And then also not just do things through rote or whatever. You have to really find something that energizes you and does and passion you to want to pursue it, and I think that's really important and not do something just because you're supposed to or someone tells you you should do this, but you have to really find things that are going to bring you fulfillment.
Passionistas: Thanks for listening to the Passionistas Project Podcast and our interview with Holly George-Warren to find out more about her latest book, "Janice: Her Life and Music," visit HollyGeorgeWarren.com.
And don't forget, our quarterly subscription box The Passionistas Project Pack goes on sale October 30th. Each box is filled with products made by women owned businesses and female artisans to inspire you to follow your passions. Sign up for our mailing list@thepassionistasproject.com to get 10% off your first purchase.
And be sure to subscribe to the Passionistas Project Podcast so you don't miss any of our upcoming inspiring guests.
Tuesday Oct 01, 2019
Tuesday Oct 01, 2019
Carolyn Koppel founded Aaron's Coffee Corner while sitting with her son Aaron in his hospital room. Her mission is to provide 24/7 access to free Keurig coffee to the family, friends and caregivers admitted to the Pediatric Intensive Care Unit of Ann & Robert Lurie's Children's Hospital of Chicago.
Find out more at AaronsCoffeeCorner.org.
Read more about The Passionistas Project.
FULL TRANSCRIPT:
Passionistas: Hi and welcome to The Passionistas Project Podcast. We're Amy and Nancy Harrington. Today we're talking with Carolyn Koppel, the founder of Aaron's Coffee Corner.
Carolyn left a career in Hollywood to return to the Midwest where she worked at the Shoah Foundation and Oprah Winfrey's Harpo Studios. Most recently she founded Aaron's Coffee Corner, while sitting with her son, Aaron, in his hospital room. Her mission is to provide 24/7 access to free Keurig coffee to the family, friends and caregivers of patients in the pediatric intensive care unit of Ann and Robert Laurie's Children's Hospital of Chicago.
So please welcome to the show, Carolyn Koppel.
Carolyn: Hello. Thank you.
Passionistas: What's the one thing you're most passionate about?
Carolyn: I feel that of course, right now I'm passionate about this project and getting coffee to people that really could use it, but I think in general, as I look back on my adult life, I've tried to work with organizations and people that do good, which I didn't really think about, but it turns out that it's a running theme in my life and I'm pretty proud of it.
Passionistas: Why do you think you're drawn to projects that help other people?
Carolyn: I think it's just my upbringing. I think I grew up pretty happily and my parents were always very kind to people and I think that my family has nurtured that. And as I went through middle school and high school and college, it's something that I carried with me. I think it's just my upbringing. I'll give that credit to my parents.
Passionistas: How does that translate into what you do in your day to day life?
Carolyn: Well, right now my day to day life is nothing that I thought it would be like 14 years ago when my child Aaron was born. So over the last few years I've thought about what can I do? Should I get a job? How can I get a job? Because there's a lot of medical appointments and there's a lot of time off if parent gets sick, how do I tell people that I need a really flexible job that can allow me to care for my globally delayed and medically fragile child?
So it's been a journey to try and find something that I can do. And along the way I've volunteered on a parent board, um, for a local organization here called North suburban special education district, which my son is a part of and has been a part of. And I slowly got back into the idea of filling my time, trying to help somebody else because after you're in a situation like I am, it takes a long time to kind of settle into your life. And I think that just over the last few years we've had a little more regularity so you can kind of look outside of what your craziness is and say, Oh, other people have it worse than me. And I think that when I started going to the hospital, I think that played a big role in how I was going to handle life with Aaron.
And that I always looked around when I was in the pediatric intensive care unit and thought, Oh my God, look at these people. They have it so much worse than we do. And I think that always rang true that no matter how frustrating and how difficult and how ludicrous you feel your life is, somebody has always got it worse. So it took a long time to kind of get to the point where I'm like, okay, well it's always going to be like this. Let's see how we can help other people because now I have things a little under control and let's open it up and see what we can do for others. And that started to happen about four or five years ago, but I couldn't really find what I needed until I was so frustrated in the middle of the night in a hospital room that I couldn't find some coffee. And that's really how we got here.
Passionistas: Let's back up a step. Tell everybody about Aaron and why you're in the hospital so much.
Carolyn: So my son has something called dihydro perimeter ING dehydrogenase deficiency. And it's not necessarily uncommon to have this disorder, but it is to have it from birth. So his symptoms started showing very early and at about 18 weeks he had a seizure and then we knew something wasn't right. And we took ourselves to that hospital and we needed to get transferred down to Lurie's children's because they didn't know what was going on and they had to get the seizures under control. So this disorder was known to people. And when Aaron was admitted to the hospital, he was there for about, I think the first time, about eight days. And they just did a battery of tests and they were trying to figure out what was wrong.
And they did EKGs to see about his seizure activity. And they took all kinds of blood tests and one test from that very admission kept coming back positive. And I remember that genetics factor coming in and saying, well this is something we're going to have to test again because I've never seen it in my career. So we're gonna send it to the Mayo clinic and have the, his blood tested it and then we're going to see what they say. And then it came back from the Mayo clinic and they said there's one man in the Netherlands that's doing research on this particular disorder. You did test positive for it and can we have blood samples from your whole family and urine samples and send them to him? And when that was confirmed, we knew what his diagnosis was. So a lot of kids that are medically fragile and globally delay, they don't have any kind of diagnosis.
So we were lucky right there that we had something to hold on to. And the way that we knew that this was what he had was because there was a drug called five plural are soul, that men in their forties when they get prostate cancer, sometimes we're treated with this drug and it had horrible side effects including death. So this man in the Netherlands had created a urine test that could test before they had this treatment to make sure that they can get it. And that's the test that Aaron kept coming back positive for. So they pulled it back around and they said, we don't have very much information on this disorder, but we know that children haven't lived past the age of three. So that was his diagnosis and his prognosis very early on, at around under a year. And that's a shock. Let me tell you what he suffers from I guess.
So he has epilepsy. He suffers from unmanageable seizures. He's globally delayed. He is not verbal and he is non-ambulatory, which means he is confined to a wheelchair. He doesn't really have the use of his limbs. So I guess he would technically be classified as a quadriplegic. And he has excellent hearing and a really good sense of spell. So he's fed through a G tube. He's on a number of medications, which he also takes through his G-tube. And as a result of the disorder, besides the epilepsy, he has lot of pulmonary issues, breathing issues. He's had pneumonia a few times. And one of the many reasons we've been in the hospital so often is that it doesn't take very much for him to get. And when he does, he has a really hard time recovering from it. So he's just a really sick, handsome little guy, you know, and, and he's just a love.
He recognizes voices, he smiles when he's happy, whether you know why he's happy or not. It's always good to have him smile. And I think that he is surrounded by so much love that he emanates it back. He really is a lucky kid and we're lucky to have him.
Passionistas: We're sorry that you've had to deal with all that.
Carolyn: Oh, it's okay. It's all right. It's turned out to be a pretty good life unexpectedly.
Passionistas: Let's go back and talk about your path to getting to here. So you studied journalism at the university of Wisconsin Madison, and what were your goals at that point when you graduated and what did you do?
Carolyn: Well, my goal at the university of Wisconsin was to get out of the cold when I graduated. And my parents had already had that idea and they deserted me while I was living while I was in college.
So they took off or Arizona and I went and shacked up with them for a year and I worked as a stringer producer. So there was a company in Arizona and we would do work for the Phoenix suns and for lifestyles of the rich and famous and for ESPN and all those kinds of stringer things. That was anything that was happening in entertainment tonight. Anything that was happening in Phoenix, we would run out and do a little bit and I would be the person holding the little microphone and asking the questions off camera. And a friend of mine had already moved out to California and she's like, well why don't you come out here? And I'm like, okay.
And I had another friend from Arizona that happened to be going to California for a summer program and she and I ended up being roommates with a couple of other girls and I got a job. I was, the first thing I did is I went to limited express to make sure I could work for them while I was there cause I had to have a job. And I had done that on and off. Like through school I had worked at limited express. So that was my first thing. And another friend of mine said, well why don't you come in and interview and see if we have a job for you at Viacom? And it was via con television. And at the time it was Dean Hargrove and Fred Silverman and they were doing all of these shows that old people like "Jake and the Fatman" and "Matlock" and "Perry Mason" "Diagnosis, Murder."
It was awesome. And I ended up working for a woman who was the script production office manager, Donna and I was a script coordinator. So the first thing she had me do was learn how to type better because my typing skills were not up to par because I thought I'd be a broadcast journalist. From then on I was in a pretty good place. I was like, this is cool. I have a great group of friends, we're all in it together, we're all starting out. And it was a really great experience and I had done that for about four years. And I remember a friend of mine asked me to go see a movie and the movie was Schindler's list and I remembered that at the end of the movie we were on the universal lot and we had seen it in a screening room. And at the end of the movie it said that Steven Spielberg was starting a foundation to interview Holocaust survivors.
And I was like, Oh well, if I remember correctly, he's my neighbor on the universe a lot. So let me send him some universal mail with my resume in it and a letter. And that got me introduced to the show foundation. And by then I was in California for five years and I was known as the crazy aunt from California. All my nieces and nephews were being born. It was like a machine out West out East. And I was like, I should see if I can give them an idea and see if they'll give me a job. So when I sent them a letter, I said, I really do believe that you're going to be wanting to locate in Chicago, Illinois and I'm from the Midwest and I'd be more than happy to run your production office from Chicago. And they said, well that's a little far off because you know, we're in one trailer in the back of Amblin entertainment right now and we have to get set up here.
And I said, well, I'm happy to volunteer or whatever you need. And so eventually I volunteered there and they offered me the job in Chicago. So I became the Midwest regional coordinator for the show foundation. And that brought me back here. After that project was over, I went on to Harpo and an interviewer that was working for me on the show foundation said, Oh, you should meet my friend at the Oprah Winfrey show. She's a producer. And I said, okay. And I had coffee with her and I told her what I did and she went back to the office and told her, her boss, one of the producers and said, you know, you're starting up this new project, maybe she's the one for you. And I went in and I interviewed for that job and I got it. And it was the very beginning of Oprah's angel network, the original version of it where we raised money for kids to go to college and we built houses with habitat for humanity.
So between the Shoah foundation and recording these visual histories of what had happened to these people during the most horrific period of time in their lives, and to show at the end how they've survived and how they've created new families and continue to do good in the world. Then to go top Harpo and give back to communities. It was just kind of a theme I was on and it was great and I was like, okay, what's the next thing? And I had been at Harpo for a little while and the angel network had kind of morphed into something else and they were opening up Oprah online, they creating their own website. So I moved over to that website and I helped them start that website. And I learned a lot about things that I never thought I would know about, like HTML and all that kind of stuff and how to create a website.
But it wasn't really hitting the Mark for me. And I enjoyed my time there, but I had met my husband by then and he's like, well go look for a different job. And I think he found out about my next job, which was for adventure, which was an educational technology company right in the middle of the bubble. It was all very exciting and I was the operations manager and it was great. And then the bubble burst and I was four months pregnant and I look like I was eight months pregnant and one of those people that as soon as I got pregnant I looked like I had been pregnant for 17 years because I looked so pregnant at the beginning and I was like, I can interview for jobs because who's going to take a pregnant woman? And then I had my first child and everything was working out all right, we bought a house, my husband was working, did I really need to go back to work?
Not really. I was lucky and I did some work here and there and a little production work and then Aaron was born and that's when things kind of took a little different path. And so I became the primary caregiver and I think all of those lessons that I learned from all of those jobs, I think that's the secret to really getting through life is to remember what you've learned and bring a little of that to your next project and bring all of that to your next project and to build upon it. And I think that by the time Aaron came, I kind of knew this was going to be okay and it's not horrible, but we don't know what's going to happen. And once he hit three years old, we started having a birthday party every year. We just had his 14th birthday party and my backyard this weekend.
And I'm telling you, there's tons of people that come in there, his therapists and doctors and nurses and our family and friends that have supported us for 14 years, you know, that have gone through the highs and the lows and the hospitals, hospital visits. And I mean it just makes you realize how lucky you are. I think that they always say maybe a Maya Angelo says it. If you find it in your heart to care for somebody, then you've succeeded. So if you keep your heart open and you try and do the best you can for somebody else, you're going to get through the next door. And that's kind of how I got to where I am. I just, I love being in broadcast journalism, but I really loved helping other people and being a part of a bigger project and I think that's just the path I took, which turned out to work well for me. And I'm using all those skills now. So it's pretty remarkable.
Passionistas: We're Amy and Nancy Harrington and you're listening The Passionistas Project Podcast and our interview with Carolyn Koppel. To learn more about her mission to provide 24/7 access to free curd coffee to the family, friends and caregivers admitted to the pediatric intensive care unit of Ann and Robert Laurie's Children's Hospital of Chicago, visit AaronsCoffeeCorner.org. Now here's more of our interview with Carolyn.
Passionistas: How did the day to day skills you learned when you were in production apply to your life now?
Carolyn: We're going to take a little downturn for, for a minute. And I say that with as light of an attitude as I can, but when you're told that your child is not gonna live past three, so for those first few years, you're not sleeping, you're listening for him to breathe and not to have a seizure every night. And then when you wake up in the morning you're like, Oh my God, we made it through the night. You know, cause you always think it's going to be nighttime when something happens and you're gonna walk into that room and something horrible will have happened and there goes on for many, many years. And once he hits three, you're like, how long is it going to go on? How do you plan for it? So you're going to be here one year and then gone the next. It's like when you get classified, you get the hanging sticker that says you're driving a car that has a handicap ramp or something, that little hang or the blue one.
And then they're like, you know, well maybe you should have a license plate. And I'm like, no, because if I get the license play, maybe that's like superstitious and then something horrible is gonna happen. So there was a lot of that year after year, like I didn't want to think too far ahead, but here I am with a ramp van with a license plate that says we're handicapped. So you have to jump over those hoops to get where you are. And I think that's just a positive attitude. If you let go of what you think you're supposed to be doing with your life and then you're going, okay, well what am I supposed to be doing with it? Every time you do that you get a little further down the line. And I think I took that from all of my experiences in working with people and just volunteering and stuff like that.
So I think I might date today. It really played a role in just moving forward everyday move forward and see what happens. And here we are. I mean it's kind of worked, you know, we have these moments where he gets RSV or he gets pneumonia and we're in the hospital and we are at that point where people are talking about do not resuscitate letters and what do we have in place to move ahead with his treatment? Or do we put a breathing tube in so he can recover from his illness? Or is the breathing tube something that's keeping him alive? Like is it because of his underlying disorder that he needs some breathing tube? So you're making those distinctions and you're looking at your child who's on all kinds of machines in a hospital and you're like, okay, what if we have to bury him next week?
And those are not the kind of thoughts you want going around your head. But it's very practical and I'm a Capricorn and that's how I think. So I think the first thing that we did when those things kind of started happening, we were concerned about my older son Eli, who's 17 now and terrific and I was like, who is he going to talk to if something happens to Aaron? Because he's not gonna wanna talk to me or, or my husband stuck. I don't want to touch him. My sister, he needs like a third party. And I remember doing that early on, he was probably eight or nine and I thought, okay, we have that taken care of. We have a place for Eli to kind of process his feelings, but we have to, um, plan for things that you just don't think you need to plan for. And there are things that people don't want to talk about.
Like you just have to, uh, compart mentally maybe and say this is where he'll be buried and when it happens, this is how we'd like it to happen. But those change, all those things change as you go through the process. I think that just understanding that it's going to be okay. You don't have a lot to do with it. Right? And you just have to understand it and not accept it, but understand it and move through it because it sucks. Don't get me wrong. So I think that's what gets us true to this situation where I was like having a little self pity party and I was really upset that I couldn't find some coffee at 10 o'clock at night. What's wrong with that? And it was really frustrating and that's at one of those times when you have a sick child, you kind of know that something's happening, right?
Like he was not his normal self and he was having seizures that he didn't usually have and he was having some seizures that he hadn't had for a long time. So things were changing and you know that it could be growth, you know, it could be diet, it could be age, they have all these reasons for all these changes to happen and you end up going into the hospital a couple of times a year to have things checked out and that's where we end up. We end up in the hospital because everybody wants to help and the best possible way, except when you go for an EEG and people don't realize that there's a lot of times when you go into the hospital and you don't have full nursing care, you're on a floor and you're there and he's having all of these electrodes attached to his head and you're responsible for hitting this little alarm when you think he's having a seizure.
So they can watch the video and look at the EEG printout and kind of determine if it's a seizure, if it's neurological, if they can say that it's a seizure or not and how to treat it, but you're the one for three days. In Aaron's case, we were there for three days this last time so we could be sure to catch what was happening and you're the one that's for doing it. You give him his meds, you are awake, you're watching the activity as it goes through, and then when you go to bed, there's somebody that comes into the room and watches it on the camera so you can't leave the room. You can't go down to elevators to get a cup of coffee or one elevator to go to the cafeteria because it's not open and room service is closed and then you just getting pissed, right?
You're like, I have to stay up until midnight to turn him his last time. So Aaron, since he doesn't move, has to get moved every few hours. And the longest time that he sleeps on one side is from midnight to about six in the morning depending on when my husband wakes up. So I always have to stay up until midnight. And I was really frustrated and I'm like, why isn't there coffee ever in the hospital when I need it in the mornings before the rounds happen or the doctor start check again at seven o'clock in the morning and I've been up since five, why do I not have little more access to that? And I started thinking about it and I thought, well let's ask Keurig to help. And so that night, I think it was 10 45 I wrote them a letter and I said, it's 10 45 at night and I can't get a cup of coffee and how can we work together to make that happen in the hospital.
And I had big visions of every floor having a Keurig machine for the families and it would be great and super easy. It seems so simple. And the rest of our stay happened. I wrote the letter, I put it aside, I went back to my job as seizure alarmist and couple of days later we went home and I'm like, Oh I wrote that letter, I should go read that letter. Maybe I'll send that letter. So I went back and I read it and I told my husband that I had written this letter and that I'm going to mail it out to the CEO of Keurig. So I did and I didn't hear from anybody and I was like, maybe I should send it to like the whole board of Keurig. So, cause it was Christmas time and who's really reading their mail and they're probably all off on vacation.
And so in January, I think I sent it to all the board members listed on the cure USA website. And in February I got a phone call from this man, so I'm looking for Carolyn capital. I said, does this Carolyn? And he said, this is John Barrett from Keurig. And I'm like, it is not John Barrett from curate. And he's like, yes it is. And I was like, I was just trying to figure out how to start a fundraiser at Lurie's and how much a pure coffee machine would really cost. I'm doing all the research right now. And he's like, well, we'd like to help you out with that and as like you are kidding me. And he's like, no, whatever you need, figure it out, we'll help you. And so from that point I was like, I had already been complaining to people for two weeks and making sure that I was in the right.
Nobody was going to disagree, that I don't deserve coffee when I want coffee. And I was getting a lot of really good feedback. I could have been because I was a little aggressive, but I knew that I was right. So I got in touch with Lurie's and I said, listen, I have this offer from Keurig and wouldn't it be great if we could get a machine on all the floors? And they're like, hold on there we are a huge hospital and we got to figure out if we can do it. And I, I got a few notes and this is when you learn that no is just the wrong answer. And if you keep complaining and keep talking about it, somebody is going to hear you and say, Oh well why can't we just try that on one floor? Because I had already gotten it down to that.
My big dream had come in like how about a pilot program for three months? Can you give me that? And they're like, I don't know why we can't. That's a really reasonable thought and let me explore what we can do. So when this was all happening, it was my son's 13th year and in September I knew we were having a bar mitzvah. So in my mind, without telling a lot of people when I was up to, I was like, Oh, that would be a great way to kick off Aaron's bar mitzvah. You know, if people want to give money, we've always given money to make a wish. When I think Aaron was five, so Eli must've been around 11 we went on a Make-A-Wish trip and it was to this day, the best trip we've ever taken, I'm very grateful for that organization. And at every birthday for Aaron, we've always asked people to donate to make a wish.
And I thought they've gotten enough money from us. We've paid that trip back. We sent a few kids on their own. We are all good with them. Let's see if we can switch directions and put our energies into this project. And so I had all of this formulating in my head and I kept getting no. So there were a few more phone calls and then one woman, Barbara Burke from the founders board. I think at Lori's called me up to give me the final no, and I kept her on the phone and she's like, I'm going to find out why we can't do this. I have a Keurig machine in my own house. It's very easy. I'm like, I know. So what's more? He got on board, it moved really quickly and we were able to set up a website through Lurie's about what we were doing and we were able to get it all done before labor day weekend in September and at his bar mitzvah I got up and told people what I was going to do and all of a sudden people were donating and people were sending me pictures of how they were using their mugs because everybody got a mug at the bar mitzvah and they'd fill up with pants or they'd show me their copy and I had an enormous help from, she's down my social media coordinator, but she's been Aaron's babysitters since he was one years old.
She just said, we should put it online and this is a social media thing and you need an Instagram and a Facebook and a Twitter. And I'm like, I don't know how to use any of that. She's like, I'll teach you. And from that moment on, we've really snowballed when I was first formulating, and in my mind, people are going to give you money to give coffee to people. It's not for research or it's not for, you know, blankets or something for the kids. And I'm like, I'm done with the kids. Kids get tons of stuff. I don't think people realize that it's the whole family is part of the experience. And if you can bring a little comfort to the family in the smallest of ways, it's gonna make the biggest difference. And I always felt like if we could help the families, we were helping the child because you create less stress, you create a little peace of mind and it makes you better at navigating all of this unfamiliar stuff.
All of the machines. Your child is all of a sudden hooked up to the medicine that I V bags, the noises in the hospital, the family that wants to desperately do something for you and they don't know what to do. You know, these are all ways you can help the whole community that supports you to make it a little easier. And I, I think it's a great idea and I just wish, you know, we can take it to a second floor and then a third floor and eventually as we continue, we can create grants for smaller hospitals. Set could use a Keurig machine, maybe don't know, pick you because they aren't big enough to have a pediatric intensive care unit, but maybe in their emergency room, you know, maybe we can spread a little bit of the comfort and help a lot of people. It doesn't take much.
And I think the simplicity of it is really what's people are like, wait, what? You're just going to give them some coffee? I'm like, yeah, yes please. I think that people don't realize one in the hospital, it's expensive. So let's say that all of these years, until about two years ago, we got a Illinois medical waiver. So it helps us with everything. Like the 20% the deductibles, it goes through our insurance and then it goes to this waiver program and they help pay for it. So for the first 12 years we paid to have our house redone so we could have a wheelchair in the house. We had paid for diapers for 12 years. Those are big diapers and they're not like little Pampers. You can run to the store for wipes, gloves, you know, Chuck's for the bed, we have a really nice laundry machine because we do it all the time.
We've spent all this money that people think, Oh that's like everyday kinds of stuff. But I don't think everybody has like a $700 a month bill for one medicine every month. Right. And they think, Oh well you have insurance and that's with insurance. So it's like paying for college but not saving for college for all of those years. And you're trying to save and you're trying to move money around. And that is stressful on its own. So these people that find themselves in the hospital in an emergency that we're counting on that. Like I been doing this for a long time. I know that when I used to go into the hospital and I got up $536,000 bill, I needed to pay 10% of that to the hospital. And that's a lot of money. So for years I was on a constant payment plan and I think that people, one, they need to know about those payment plans.
Any hospital will take a payment plan and you should ask about it and get on it and only give them what you can afford. If anything anybody hears today, that should be it. But it's stressful. Money is stressful, sickness is stressful. So when you have those things mixed together and you find yourself in a hospital and you're like, can I really afford a $4 cup of coffee at Starbucks down the way? Maybe not. Maybe I could get a free cup of coffee down the hall and be back in time to talk to the nutritionist or the doctor. That's coming around. And if I'm gone for a couple of seconds, the nurse can say, Oh, she just went to get a cup of coffee. She'll be back in moments instead of finding out where the doctor is on the floor and what time rounds usually are, and then to rush out, get your copy and something to eat and then get back to your room so you don't miss anything.
It's a whole different like universe inside a hospital. And it's even more difficult and unnerving to be in a PICU because a pediatric intensive care unit, just like when adults go to an intensive care unit, things are not good. So the best day, and I've said this before in the PICU, is the day you leave the pick queue and you want to leave the PICU. So it's just a different way of thinking of it and really simplifying it and saying, we appreciate what you're going through. We been there, we're a family that has experienced it, and we want you to know that it's going to be okay. It might take a little while. The journey is a long one and you just gotta stick with it.
Passionistas: Is there one lesson you've learned so far on this journey that sticks with you the most? If you have a good idea and you hear no a lot, that you should take a risk and just keep trying for yes.
Carolyn: I think that's a really big lesson to learn and that these things take time. You know, it takes a long time for somebody to say yes and it's worth it at the end when you hear yes, just don't give up. It's not anything great, but it's hard to do in practice is to not give up and just not take no for an answer. Because when you don't stop, there's going to be a door that opens up and somebody's gonna say, Hey, I'm there with you. And I think that's important to keep in mind and, and learn about yourself. Stick to it. If miss, I don't know. It's been a good journey. Hard, difficult, sad, glorious, fun. I mean all of those things. But it's still a journey. And at the end, we're all going to meet our end and the Aaron's going to meet it in its own time surrounded by people he love living a life that has been glorious because the people around him are glorious. What more could you ask for really? Right. So it's all gonna be good in the end.
Passionistas: Thanks for listening to The Passionistas Project Podcast and our interview with Carolyn Koppel. To learn more about her mission, to provide 24/7 access to free Keurig coffee to the family, friends and caregivers of patients in the pediatric intensive care unit of Ann and Robert Laurie's Children's Hospital of Chicago, visit AaronsCoffeeCorner.org. And be sure to subscribe to the passion Eustace project podcast so you don't miss any of our upcoming inspiring guests.